Rules
This site accepts records that follows the following rules.
Game versions
The latest version of the Monster Hunter World at the time of the post. Please do not post records from older versions.
(Added Aug 28th 2018)Only recordings from PS4 and Xbox are accepted.
Quests
Hi-ranked Hunt/Slay quests only.
Number of hunters
Solo (no palico) all the way through.
Runs accepted
This site shows top 3 runs for each weapon per quest. Runs that does not make the top 3 will not be accepted.
Items
The use of the following items are prohibited.
Meat, Poisoned Meat, Drugged Meat, Tinged Meat
Poison Smoke Bomb
Pitfall Trap
Shock Trap
All Bombs
Boomerang
Binding Ballista
Ballista
(Added July 11th 2018)Smoke bomb
Slinger
Any slinger ammo except Dung pod is prohibited.
(Added July 6th 2018)Use of capture net to get rid of the frogs and flies in advance is allowed.
Skills
The following skills are prohibited(even if they do not come into effect.)
Equipments
Any equipment with the prohibited skills above is prohibited.
No mantles/boosters
Felyne Skills
The following skills are prohibited(even if they do not come into effect.)
Environmental traps and etc
The use of following environmental traps, flora, and insects are prohibited.
No frogs, flashlies, poison cups, noios, or any other trap causing damage, immobilization, or status effect
No environmental traps causing damage, immobilization, or status effect
Weapons such as Canon, Ballista, Dragonator, Falling Boulders
Wallrun attacks
(Added:Apr 3rd 2018)Repetitive use of aerial attacks using ledges(e.g. aerial GS)
(Added:Apr 8th 2019)Use of ledges to cancel out recoil
Use of vitalilies, sporepuffs(Added July 11th 2018 As smoke bomb is banned, using sporepuffs intentionally and untintionally using it and affecting the monsters is no longer allowed), wiggly litchi are allowed.
Aerial attacks from places other than walls(e.g. ledges and inclines) are allowed. Jumping from walls without attacking is also allowed. Turf war, lava damage, crystal fllor damage in Elder's recess is allowed.
(Added:Apr 8th 2018) If you triggerred the traps, bugs, or frogs by mistake, but has obviously not affected the target or another large monster, the record will be accepted.
No points received for traps that gets you point
No immobilization
No status effect until the end of the quest
Following cases will not be accepted.
If you hit a frog or a poison cup, and later made the monster get some status effect using your weapon
Nitrotoad
Seemingly intentional use of environmental traps
(Added:May 16th 2018)If other monsters caused some status effect(e.g. Girros, Pukei-Pukei, Tzitzi-Ya-Ku)
(Added July 6th 2018)Use of capture net to get rid of the frogs and flies in advance is allowed.
(Added Feb 15th 2019)Gajalaka artillery by your friendly Gajalaka is not permitted
Camp
No changing/restocking items or changing equiments. Use of fast travels are okay.
Video
Please follow the rules below when recording the video.
Language set to Japanese or English
Show damage
Video from the beginning of the quest to the end where the number of hunters are shown(see screenshot below). No fast fowarding, no cuts.(Added:Apr 20th 2018)Do not add overlays on top of the video that blocks part of the screen.
Show skills and felyne skills to show that no prohibited skills are used(Recommend showing the equipment while showing the skills). Please show each page of the skills for about 2 seconds, so it is easy to verify the skills.(Added:July 9th 2018) Skills and felyne skills need to be shown during the quest.
Upload video to YouTube or NicoNico
Status screen
optional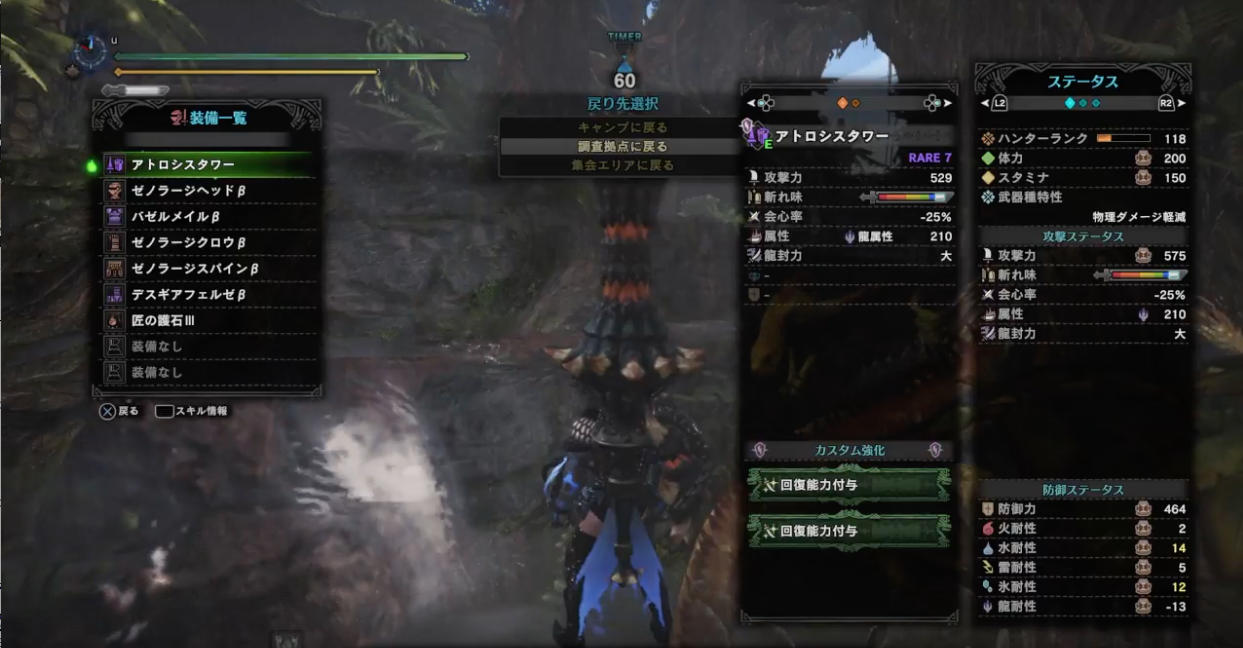 mandatory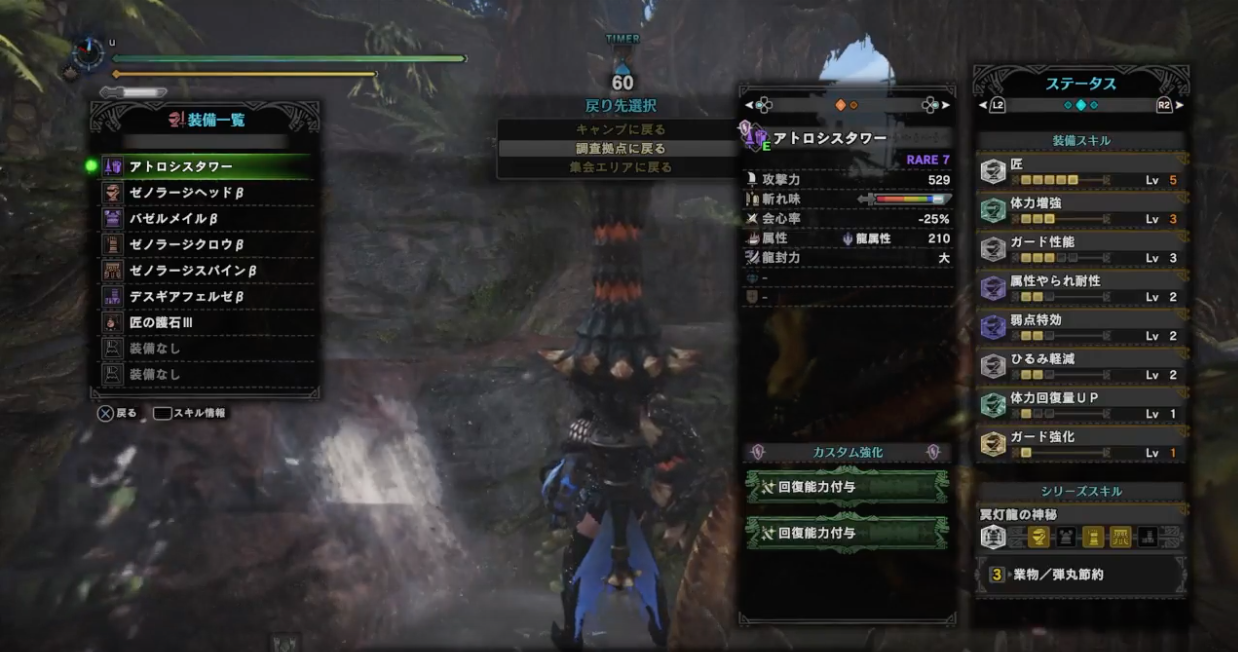 mandatory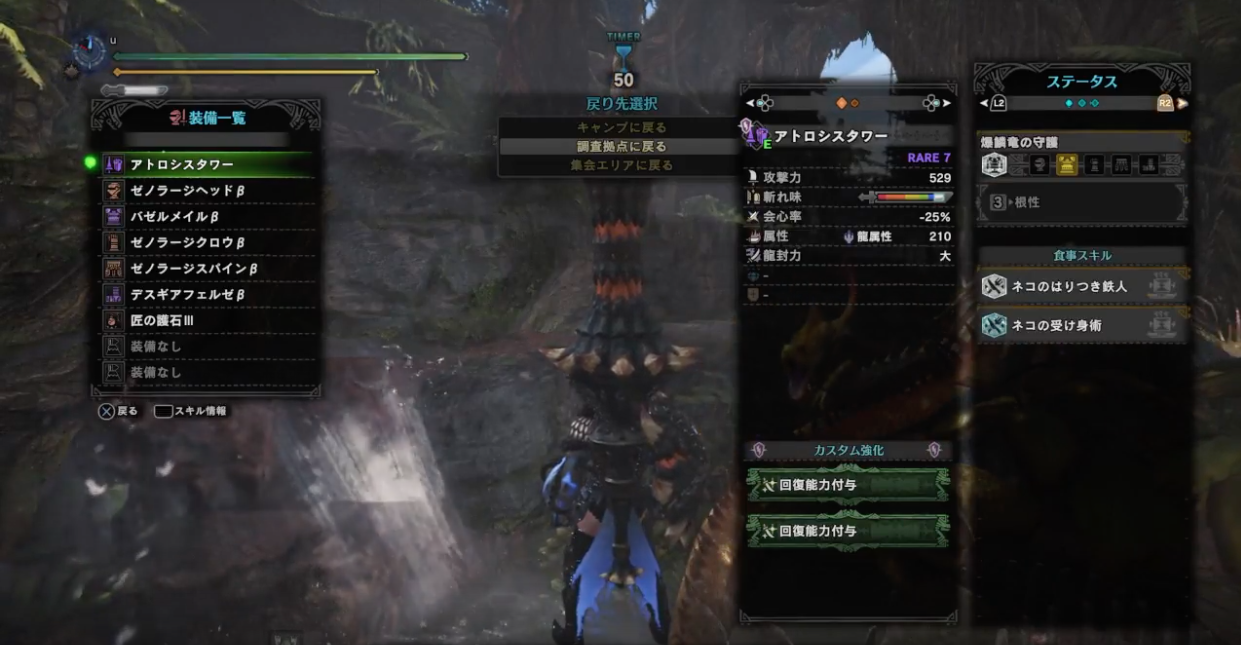 Post quest screen
mandatory
mandatory
Example
How to post
The site is currently not accepting new records.
Cheating
Players using mods or cheating will be banned
Known players using mods or cheating in the past are also banned.
If you see mods, cheats, or anything against the rules, please reply or DM to @monsterhunterta. Any report will be processed anonymously.
Other links